About the Book
Listen to recordings of selected tunes from the book.
New files posted Jan 14, 2003
Talk About the Book
Tell us what you think about the book, and read comments other people have sent in.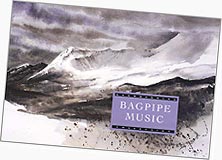 Charlie Glendinning, who spent nearly thirty years as Pipe Sergeant of the City of Washington Pipe Band (a.k.a. Denny and Dunipace, a.k.a. Scottish and Irish Imports), has collected his own tunes as well as selections from:
Duncan Bell
George Bell
Tim Carey
Andrew Douglas
Ken Eller
Ann Gray
Michael Green
Sandy Jones
Ed Krintz
P/M Angus Macdonald
Robert MacNeil
Jimmy McIntosh
Gerry Quigg
Jon Quigg
Roy Smith
Bob Worrall.
There are also a few unpublished Angus MacKay tunes, arranged by Charlie Glendinning and a short Piobaireachd transcribed by Paula Glendinning from a recording of John MacDonald of Inverness.
Many of the tunes in the book have been played by the City of Washington Pipe Band over the past 30 years--in competition or on one of the three band recordings. Tunes included from the most recent CD, Scottish Rant, are: Dunblane, The Recruits, and BagDad by Charlie Glendinning and The Keflavik Jetnest, The Iceman and BagDad 99 by Michael Green.

Weighing in at just over 100 pages, the book contains:
Marches
Strathspeys
Reels
Jigs
Hornpipes
Slow airs
Waltzes
Piobaireachd
Gregorian chant
Hymns
Christmas music
... and some that defy categorizing.
More than just the tunes themselves, Charlie has collected artwork, poetry, prose, photographs and interesting information about each of the tunes. It is the first book of Bagpipe Music that is as at home on the coffee table as in the pipe case.